KR Series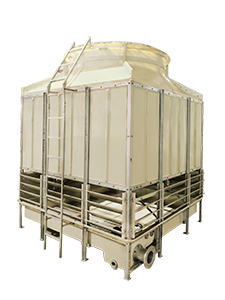 'KR' series is the modular design series of Induced Draft Counter Flow cooling towers. This series has redefined the FRP cooling tower industry based on its thermal performance and reliability. This series is a preferred choice for clients looking for low capex option, without any compromise on the thermal performance of the tower. It is structurally robust to withstand harsh working conditions.
Key Features
Cooling tower components complying to CTI STD.
MOC: MSHDG / SS304 / SS316 / Pultruded FRP.
Standard IE2 Motor with option of IE3 / IE4 / FLP / VFD / Electronically Commutated.
Equipped with Direct drive system with option of Gear drive.
Axial fans with aerodynamically designed blade profiles.
Pultruded FRP flap type air inlet louvers with option of cellular louvers.
Aesthetic smooth finish on both sides of FRP panel.
Multi cell option available with single cell capacity of 15 TR to 500 TR.
Option available for with / without basin.