TURNKEY PROJECT IN INDUSTRIAL UTILITY
PIPING DESIGN CONSULTANCY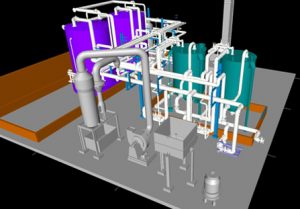 Konark Global offers Energy consultancy services for green field projects or for reengineering existing plants. Companies can make use of energy conservation measures that follow best industry norms. The services cover the following utilities boiler house and steam distribution system; thermal oil systems; chilled water and compressed air systems. Konark Global team experts in design engineering of Chimney, Storage tank, Press vessels, structures, support Columns, Layouting by using latest Designing Softwares of CREO, AutoCAD ,MOST 2D,Item CAD.
Konark Global expertise also includes:

Selection of equipment
Complete piping and insulation design
Design of condensate recovery systems
Selection and sizing of pressure reducing stations
Design of waste heat recovery systems



Konark Global provides consultancy for:

Greenfield projects
Re-engineering of existing plant
Present system hookup with new plant
Complete turnkey execution for piping



Thermic Fluid Piping:

Thermic Fluid Piping can be done in MS Class C pipe(NIBR),which is withstand to carry Thermic fluid upto 300 deg cel.
The thermic fluid piping is from Thermic fluid heater to Process & From process to heater via D/E tank.
Piping includes fiiting of all Valves like gate valve,globe valve,non return valve,control valve.



Cooling water piping/Chiller water piping/Boiler feed water piping :

Water Piping can be done in MS Class C pipe(NIBR),which is used to carry water from source to utility.
Piping includes fitting of all Valves like gate valve,globe valve,non return valve,strainer.
Mainly water piping is from Feed water tank of Boiler to Boiler through Softener/RO/DM.
Water piping from Source to Cooling tower and from cooling tower to utility and return line from utility to Cooling tower.



Compressed air piping in GI/Aluminium (Air Net Piping ):

Compressed air line can be done in GI Class C pipes or Aluminium (Air net piping ) according to need of customer.
In GI piping all fittings like connesctors,bends and flanges are hot dip galvanised.
In aluminium piping i.e air net piping which is product of Atlas Copco,free from welding joints.All joints are push and fit type and piping is flexible.The most important profit of this product is,it can save pressure loss upto 7%.



Thermal Insulation work :

Thermal insulation work can be used to reduce heat losses.
It is majorly done on steam piping,thermic fluid piping, utilies,boilers, thermic fluid heater, hot water piping.
Insulation material used for insulation is Rockwool which is covered by alumimium cladding.



Air and flue gas ducting work :

Ducting is used to carry flue gases from Boiler to Chimney.
Mainly ducting part covers from Boiler to WHR unit to Chimney.
The material used for ducting is MS which is covered by alumimium cladding.