FILTERS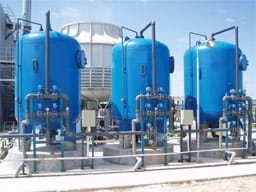 Filtration is a process to remove finer impurities from water by using a physical barrier.
Dual Media Filter(DMF)
Pressure Sand Filter consists of a multiple layer of sand with a variety in size and specific gravity. These Filters are designed to remove turbidity and suspended particles present in the feed water with minimum pressure drop. These Filters are custom designed to suit the process requirement.
Activated Carbon Filter(ACF)
Activated Carbon Filter is widely accepted system in water filtration techniques. The treated water is free from chloramines (chlorine and ammonia mixture) and organic compounds; therefore, best for discharge and production use. Activated Carbon Filter is also utilized in pre-treatment for ro water plant and dm plant as the treated water keeps these systems safe from oxidation or organic fouling.