HEAVY ENGINEERING FABRICATION
MANUFACTURING OF TANKS & CHIMNEYS
We at KONARK, design & manufacture Boiler Chimneys & Tanks in MS (Mild Steel IS2062) .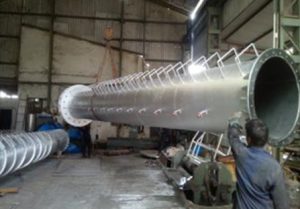 We Manufacture 3 types of Chimney.

Guy Wire Supported Chimney has uniform diameter throughout its length supported by Guy Wire ropes to ground.
Self Supported Chimney has bulde diameter at the bottom which narrow across the length .Konark has successfully designed.
Structure Support Chimney similar to guy wire chimney with supporting channel & angle structure to support the pipe throughout the length.



We also cater in Design & Manufacturing of tanks i.e.,

Feed water Tank: We undertake turnkey job with complete utility plant & water service tank with deareator head/level controlllloer/ temprature controller & supporting structure with railing /ladder.
Fuel Oil Tank : Fuel service tank with insulation & steam/electrical preaheating arrangment suitable to boiler coapacity are designed & supplied for touble free opration of burner.