HIGH PRESSURE CONDENSATE RECOVERY SYSTEM
VARIO Float Trap Module is a ready to install pre-fabricated assembly comprising of float trap with inbuilt sight glass, valves, strainers, disc check valves, pipes and fittings.
This product will appear at two places:
1) Steam Distribution Pre Fabricated Modules
2) Condensate System Management
Product Features
Elimination of vent steam loss
Recovery of complete condensate and flash steam to the boiler drum
Complete system is controlled by a micro processor based controllers.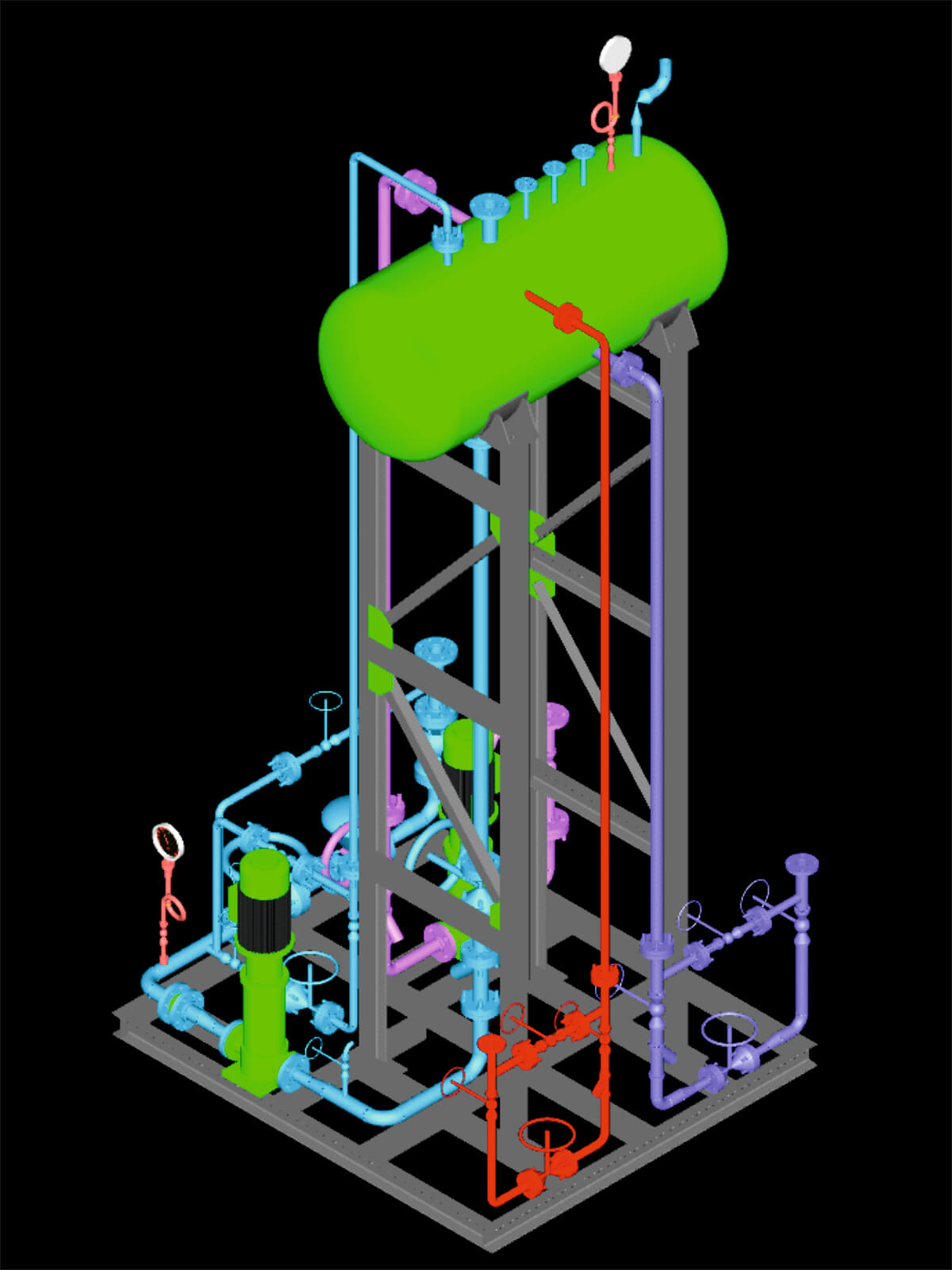 With this system, we can eliminate condensate flashing which reduces the pressure and temperature of the condensate. The heat of both condensate and flash steam cannot be recovered in the boiler feedwater tank as this will result in the feedwater temperature going above 1000 C.
Also, since the condensate temperature is close to saturation, significantly less fuel is required to generate the same amount of steam. The system is estimated to generate fuel savings between 10 to 20%, when compared to a conventional atmospheric condensate recovery system.
HPCRS is operated by PLC based control system with key specialised products like a high temperature centrifugal pump, control valve, pressurised tank, condensate pumping system to handle very high condensate temperature and as well as pressure.
Benefits of HPCRS
100% condensate heat and water recovery is achieved.
No flashing of condensate, either at process house or at feedwater tank within the boiler house
Reduced Blowdown losses and water treatment cost.
Reduced steam pressure fluctuation
Significant Water saving due to flash recovery.
Significant reduction in the fuel consumption.
Industries
Rice Mills

Rubber Vulcanizing

Tyre Manufacturing and Retreading

Corrugated Box Manufacturing

Tea Industry

Fish feed Mill

Tea

Plywood Industry

Rubber belt Manufacturing